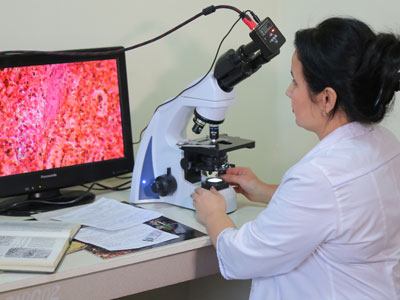 Nargiza I. Tazhimova
Assistant of the Department Pathological Anatomy at the Tashkent Medical Academy
Educational activity:
1997-2004 years.  Graduated from the 1-Tashkent State Medical Institute, a branch of Urgench
2016-2018 years. He graduated from the TMA of the Urgen Branch Clinical Residency with a degree in Pathological Anatomy.
Activities:
1997-2004 years. Student of the medical faculty of the Urgench branch of the 1st Tashkent State Medical Institute
2016-2018 years. The Urgench branch of the Tashkent Medical Academy graduated from the dead course "Pathological Anatomy".
2018 years. The Khorezm Regional Pathology Bureau of Expertise worked in the Department of Adult Pathology, as a pathologist. 2019years.. Doctor pathologist at the Department of Adult Pathology and Biopsy Diagnostics of the Republican Center for Pathological Anatomy.
2019 years. He works as an assistant at the Department of Pathological Anatomy of the Tashkent Medical Academy.
Main activity:
Pathological diagnosis of human diseases.
Publications (last 5 years):
« PATHOMORPHOLOGY OF LYMPH NODES IN NEONATAL SEPSIS». MATERIALS
OF THE XV INTERNATIONAL SCIENTIFIC AND  PRACTICAL CONFERENCE
SCIENTIFIC HORIZONS – 2019. September 30 – October 7, 2019. Volume 12. SHEFFIELD SCIENCE AND EDUCATION LTD  2019.